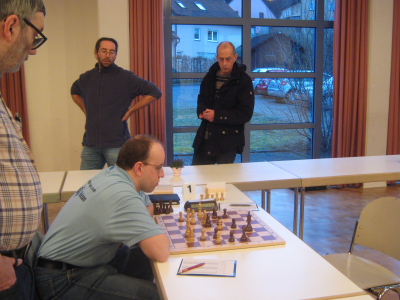 FM Roland Voigt concentrate in the match against Forchheim. In the black
jacket it seems as one of the actors from the Derrick-series back
in the 1990s also like chess. Behind Roland with the glasses we can see
FM Manfred Heidrich who made an IM-norm after beating IM Cliff Wichmann
on Sunday in the match Forchheim-Aue.

GM Gabor Papp (right) won the 2nd Board duell for Aue against Forchheim.
His opponent is the legendary GM Vlastimil Jansa.

In this picture we can see FM Matthias Liedtke (left) winning against
Bad Mergentheim. Next to him FM Stephan Rausch wins as black in a
Stonewall.

FM Roland Voigt (left) has started his game against GM V.Ikonnikov.
Roland won this game after many hours fighting. He secured SG Leipzig
a play off against Wacker Neutraubling in Leipzig Saturday 25.April at 2 p.m.
(14.00).

IM Heiko Machelett (right) has just pushed his c-pawn. He discussed a
variation of the slav defence with IM Alexander Gasthofer. The game
ended in a draw.

Leonard Richter (right) had an excellent weekend in Bad Mergentheim with
two victories against title holders. Here we see him in action against
GM Mikhail Ivanov from Bad Mergentheim. Leo won a fighting game where
his h-pawn decided in the end.

There was also time for some analysis in Bad Mergentheim last weekend.